General Information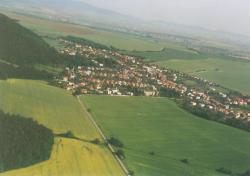 The village Klátova Nová Ves is situated in the district Partizánske which is a part of Trenčín self-government region. It is a centre of a valley Klátova-Veľký Klíž.. It has 1600 inhabitants.
There are a health centre with a general practitioner, the dentist and paeditrician, the chemist's and the post office. The Elementary school Klátova Nová Ves is a school established for the surrounding villages Turčianky, Ješkova Ves and Veľký Klíž including. In a school area there are kindergarten and a canteen. The canteen is available for the pensioners too. The village runs a village water-supply. It has built up a gas distribution system. A road network is in a quite good condition. To reconstruct the roads we have used fonds of the European Union. The only thing we have not built up yet is a drainage.
Recently we have realized more investments including building up the village water-supply and a gas distribution system. We have reconstructed the culture houses, elementary school and kindergarten, built up the stairway into the church, renewed the roads and pavements and built up a multifunctional sports ground.
Geographical conditions and the climate predestinated the village Klátova Nová Ves to be a resort of the aristocrats. Thanks to this fact there are more exceptional architectonic valuable mansions, technical remains and sacral sightseeings here. Four of them have been nominated for national culture sightseeings.