Parish church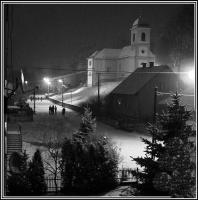 You can be impressed by the dominant church on the hill in the south part of the village. This baroque church was built on the place of the former stone church with a tower mentioned in visitation from 1695.
The construction of a new church was completed in 1764. It was financially supported by the local landlords Huňady and Husár. There are two crypts under the church floor, one of Huňady's under the side chapel and the other one of Marcibány's under the sacristy. The wall mosaics decorating presbytery present the themes of the Last Supper and Descent of Holy Spirit. They were painted by the important Slovak artist Vincent Hložník in 1973. The interior paintings are the results of the later reconstruction from 1998-1999 managed by the artists Pavol Stacho and Milan Bodora. The oldest bell from the three ones with the reliefs of Holy Trinity and St Ján Nepomucký comes from 1896. It was made by the company Fischer in Trnava and weights 104 kg. The biggest bell weights 195 kg and the smallest one of St. Joseph 54 kg.
The last general reconstruction was done in 2002-2003.