Renessaince fortified mansion in Klátova Nová Ves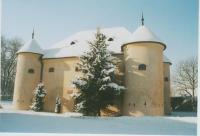 The minor fortified mansion is situated next to the main road in the centre of the village. It represents fortified residence of the local thanes. It is a renaissance building with angular fortilities from the second half of the 16th century. Its construction is connected with the family Novoveský, the village owners. It is unique by its angular fortilities with loopholes equipped with vent holes. The fortilities were designed for hand firearms. The vent holes went through building exterior and insured ventilation of fire products. In countryside we can rarely meet with such an inventive element of the loopholes.
The archaelogical research of mansion's neighbourhood confirmed colonization in the 7th - 6th centuries BC by Sorbians. Later reconstructions were performed after the fire at the beginning of the 19th century when the building was used as a brewery and grainery.
Reconstruction, started in 1973, stopped deterioration of this sightseeing and enabled its new use. There is a ceremonial hall nowadays.